WE SMART
WE SMART is a state-of-the-art tracking device for fleet managers with large fleets.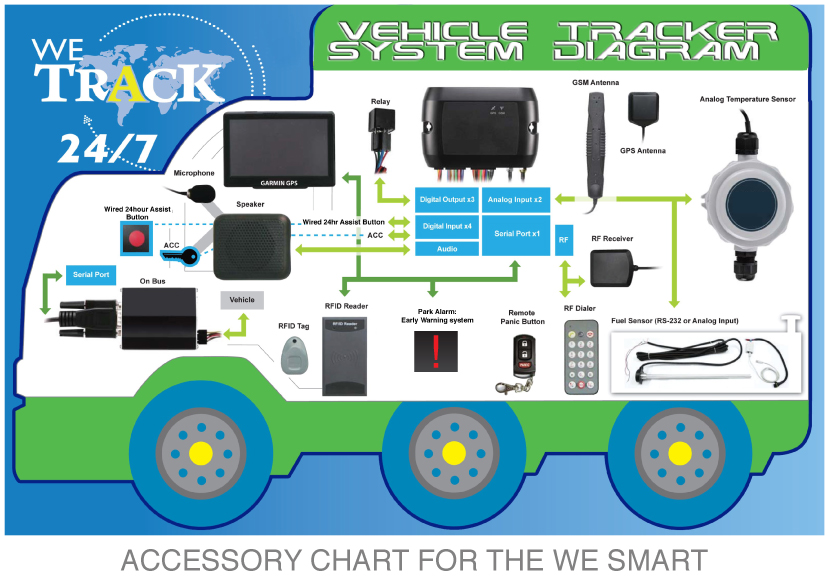 Price plans including real-time monitoring 24/7:
Price on application depending on options selected.
Pricing includes VAT.  12-month contracts also available.  Prices EX Cape Town.
Pricing: value added services
| | | |
| --- | --- | --- |
| Feature: | Available on this model? | Price: |
| SMS alerts | Yes | R1 per SMS |
| Insurance against theft T+Cs apply | Yes | R 35 per month |
| Stolen vehicle recovery | Yes | R 29 per month |
| Roadside assistance | Yes | R 16 per month |
| SIM data from outside South Africa | Yes | R 25 per month |
| Schedules | Yes | R 25 per month |
| SARS logbook | Yes | FREE |
| Park alarm | Yes | R 20 per month |
Pricing includes VAT.
Click here to see our Accessory Price List.
Real-time tracking enables you to make instant decisions to best leverage your fleet
Fleet management is optimised by enabling you to view position and status of each vehicle
Mobile asset tracking ensures added security for both you and your clients
Vehicle security + rescue assists with reaction time in the event of en-route emergencies
Data warehousing provides the added security and space savings involved in off-site storage
Park alarm – early warning system, Fail to tag, Anti hijack, Routes, Destination arrivals, Violation stay alerts, 24-hour assist, GEO enter and exit
With We Smart, fleet managers can deploy resources more effectively, control operational costs, curb vehicle abuse and monitor both assets and goods in transit.
Be smart about fleet management with We Smart trackers!